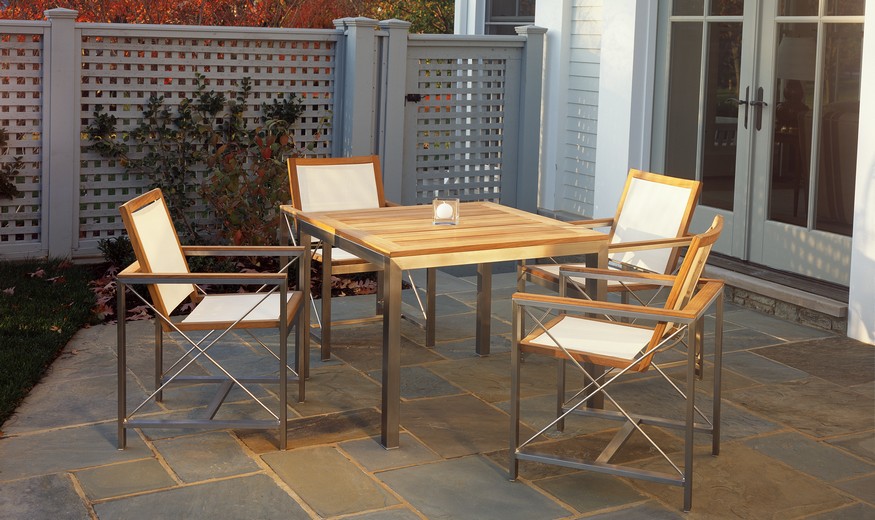 Planning the perfect outdoor space
Header: Kingsley Bate Ibiza
Spending time outdoors seems like a distant memory as we head into February.  (Spending time outdoors voluntarily, that is.)  One good thing about winter is that it's the ideal time to start planning for spring and summer and time outdoors! You might be wondering what an interior designer has to do with your outdoor space, but we like to think of that as an extension of your home that reflects your style.  Come daydream with us!
Outdoor seating for everyone
If you're planning to have the party at your house, comfortable seating is a must.  We love outdoor sectionals for their versatility and coziness!  We chose this for a client's balcony and it's perfect for evening entertaining with the Philadelphia skyline in the background, or curling up with a throw and a cup of coffee on an autumn morning.  Adding fun throw pillows helps bring your indoor style outside!  For dining, the Kingsley Bate "Ibiza" collection pictured above offers stylish seating in a combination of aluminum and teak.
Accent pieces that pop
When you think of outdoor accents, you might picture a boring table with an umbrella.  So many cool outdoor pieces are available now.  One of my favorites is a fire bowl, which takes your standard fire pit to the next level.  Fire bowls are fueled by propane and come in varying shapes and sizes, which makes them perfect for any backyard, deck, or patio.  Another great trend is functional accent furniture – we've seen fabulous side tables and cocktail tables that double as coolers.  Imagine opening the lid on the table next to you and having your favorite beverage chilled and waiting!
Entertaining a crowd
Speaking of beverages, one of the best things about warm weather is outdoor entertaining.  It essentially gives you another "room" in your home.  One drawback can be the need to go in and out for food and refills, but now there are excellent options that keep the party outside.  Outdoor kitchens can be customized to include refrigerators, gas burners, and warming drawers.  Standalone bars offer ice, beverage, and glassware storage, while coolers have evolved from the plastic block party staple of your childhood to stylish teak chests that can hold several large bottles.
Plant something
Winter is an excellent time to start thinking about landscaping and planting.  If you don't have much space (or a green thumb), consider a container garden with low-maintenance flowers, shrubs, or decorative grasses.  You can stop into a local nursery for advice about what suits your home and your lifestyle best.  Don't forget the front either –  you'll love the curb appeal that planters or window boxes bring to your home!
Function and style
My favorite thing about emerging outdoor trends is that they marry function and style.  You can have seating coupled with a serving area for food and drinks, which allows you to enjoy your time with friends and family without having to trek back and forth. There are so many options to create an extension of your home that reflects your lifestyle and gives you the opportunity to create memories for years to come!