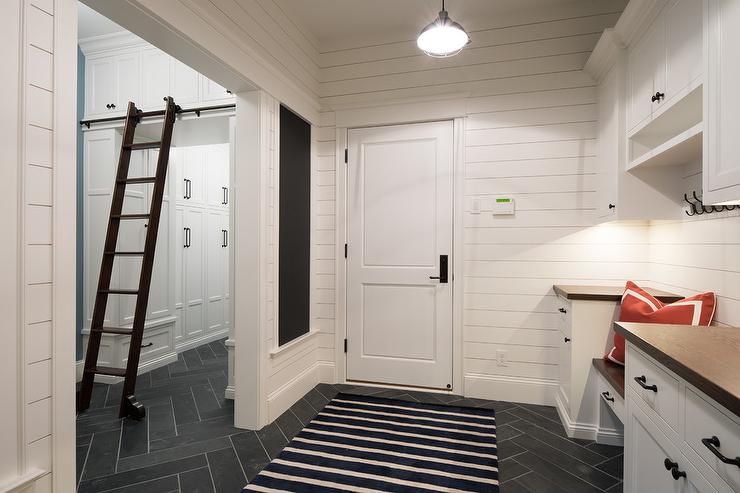 Mudroom Must Haves
Header image: Studio M
Sometimes interior design projects are less glamorous than practical; this is definitely the case when designing a mudroom.  For many of us, the next few months will mean rain, snow, and mud.  Here in Philadelphia, the tradeoff for a "winter wonderland" is usually a jumble of slushy boots just inside the door.  Wet weather in warmer locales is just as sloppy.  Adding a mudroom is a great solution to keep the rest of your home free of messy footprints, leaves, and jackets.  Don't have a lot of room?  Don't worry.  These mudroom essentials can work in a large or small area.
Floors
Tile is ideal for a mudroom, because it's durable and easy to clean. (We love the dark slate used by Studio M in the header photo!) Add an indoor/outdoor runner or a couple of washable throw rugs to keep from slipping and sliding!  Even the hardiest of outdoor mats aren't very effective in inclement weather, so it's good to have a place to wipe your feet once you get inside.
Storage
Efficient storage is a must in a mudroom, especially if you're working with a small area.  Built in cabinets are a great multifunction solution since they can be customized to your needs (and even double as a bench). Hooks for coats and bags are a given; shelves and drawers are great for smaller items.  Keep practical items like towels and cleaning supplies in a basket tucked into a cubby for quick cleanup!
Mudroom Accessories
The name pretty much gives it away; the mudroom is going to be messy.  That's great, because it keeps the mess contained!  Think of your particular needs when you choose accessories.  Boot trays are a must whether you have snow or rain to give you a place to put wet footwear.  An umbrella stand or bucket is a good idea year-round, with the bonus of always knowing where you put your umbrella the last time it rained.